Christ Church Offers Individual, Multidenominational Blessings to Hundreds of Household Pets and Farm Animals:
Including NYPD Horses and K-9 Unit, Pigs, Cats, Dogs, Exotic Birds, Fish, Reptiles, Llamas, Alpacas, Sheep, Goats,       Chickens, and all that's feathered & furry.
New York Post columnist Cindy Adams' 2017 Blessing of the Animals is Sunday, December 3 at Christ Church, 61st Street and Park Avenue.
This free event welcomes pet parents from all over to have their pets blessed by its Senior Minister Rev. Dr. Stephen Bauman of Christ Church and Central Synagogue Rabbi Emeritus Peter J. Rubinstein.
The Blessing of the Animals is presented by New York Post and co-sponsored by Cornell University Veterinary Specialists and College of Veterinary Medicine, The Baker Institute for Animal Health, the John & Margo Catsimatidis Foundation, the Humane Society of New York, and philanthropists Mary and Kathryn Kalikow.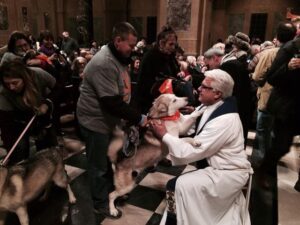 "New York loves its pets, and we are thrilled to receive such an overwhelmingly rewarding response from the community" said New York Post columnist Cindy Adams. "The Blessing of the Animals festivities celebrates the joy and love they give us during this season of giving. We are grateful for our sponsors and the generosity of so many fellow New Yorkers in enabling us to organize this fabulous event.
Hundreds of different species—horses, goats, fish, dogs, cats, birds—will patiently wait to be blessed by the Senior Minister and Senior Rabbi. The New York Police Department will also be participating with police horses blessed outside of the church entrance and a K-9 unit included in the processional. In addition Long Island's Roosevelt High School choir will entertain us carols.
Through the Humane Society of New York we have a processional of adoptable animals. We also welcome donated pet toys for the Humane Society. The Blessing of the Animals- remember: SUNDAY, DECEMBER 3, 2017 2 P.M. SHARP. Please don't be late. It is very crowded. Christ Church is at 524 Park Avenue.