Broadway Star Bebe Neuwirth Reads to Canine Cruelty Victims Recovering at ASPCA
ASPCA Story Telling Program celebrates three years and more than 3,000 volunteer reading hours 
Yesterday afternoon Broadway actress and current star of CBS' Madam Secretary, Bebe Neuwirth, dropped by the American Society for the Prevention of Cruelty to Animals' (ASPCA) Canine Annex for Recovery and Enrichment (CARE) to read one of her favorite novels to recovering canine cruelty victims.
Ms. Neuwirth served as a volunteer reader for the ASPCA's Story Telling program, an initiative which provides valuable human socialization to fearful, under socialized dogs rescued through the NYPD/ASPCA partnership. Ms. Neuwirth shared sections of Leo Tolstoy's classic War and Peacewith a group of four dogs as part of their rehabilitation. Video of the reading was shared on Facebook Live, and can be viewed here.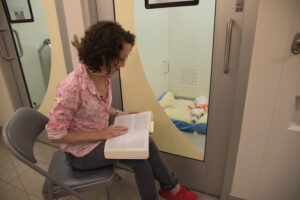 Since its inception a little more than three years ago, volunteers with the ASPCA Story Telling program have clocked over 3,000 hours of reading to hundreds of dogs at CARE and the Animal Recovery Center, a special wing of the ASPCA Animal Hospital for cruelty victims.
"Victims of animal cruelty benefit from positive and loving human interactions to help undo the psychological damage they've sustained, so we're thrilled that Bebe Neuwirth – a longtime animal advocate – is offering her time and considerable talent to take part in our reading therapy program," said Matt Bershadker, President and CEO of the ASPCA. "Many of these dogs have never known a kind word or gentle action from a human, so Ms. Neuwirth's participation, as well as the participation of all of our volunteer readers, can truly make a difference in their lives and boost their adoption prospects."
The ASPCA Story Telling Program is one part of the overall rehabilitation efforts at CARE.  Completed in October 2015, the 5,000-square-foot facility can accommodate up to 50 dogs and was specifically designed to create as calming an experience as possible for recovering cruelty victims. In 2016 over 150 canine cruelty victims received treatment at CARE.
About the ASPCA®
Founded in 1866, the ASPCA® (The American Society for the Prevention of Cruelty to Animals®) is the first animal welfare organization in North America and serves as the nation's leading voice for animals. More than two million supporters strong, the ASPCA's mission is to provide effective means for the prevention of cruelty to animals throughout the United States. As a 501(c)(3) not-for-profit corporation, the ASPCA is a national leader in the areas of anti-cruelty, community outreach and animal health services. For more information, please visit www.ASPCA.org, and be sure to follow the ASPCA on Facebook, Twitter, and Instagram.