Legendary actor Patrick Stewart urges animal lovers to #GetTough on dog fighting via social media
New York, N.Y.—To kick off its National Dog Fighting Awareness Day campaign on April 8, the ASPCA®(American Society for the Prevention of Cruelty to Animals®) has partnered with legendary actor Sir Patrick Stewart to raise awareness on the prevalence of dog fighting in the U.S. and encourage animal lovers nationwide to take action against one of the most brutal forms of animal cruelty.

"No civilized society should tolerate barbaric practices that profit off animal torture, yet this is exactly what happens at dog fights – which occur more frequently, take place in more communities, and involve a broader population of individuals than most people realize," said Sir Patrick Stewart. "Dog fighting represents the worst of human nature and the ultimate betrayal of loving animals, so it's important to build awareness and a resounding public rejection. I proudly stand with the ASPCA's #GetTough campaign because it's an active step toward the ultimate eradication of this heinous 'blood sport'."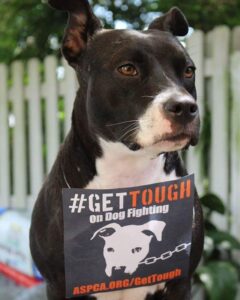 "Contrary to what many people think, dog fighting isn't rare, or a relic of the past. As recently as last December, the ASPCA has been called in to assist law enforcement in dog fighting investigations, and we've seen firsthand the suffering and torture these dogs are subjected to," said ASPCA President and CEO Matt Bershadker. "Fighting to eradicate dog fighting is the work of committed rescuers, advocates, political leaders, and the general public, which is why we're encouraging everyone to do their part to end this horrific activity in American culture."
Throughout the month of April, the ASPCA is urging animal lovers across the country to #GetTough on dog fighting by posting selfies with their pets to their social media channels, flexing their muscles in solidarity with the movement and taking a stand against dog fighting.

In addition, animal lovers can speak out against dog fighting using the hashtag #GetTough, visit aspca.org/gettough to learn about dog fighting, and help end the stereotyping of pit bull type dogs by fighting breed-specific legislation and fostering a shelter dog. Lastly, we urge individuals to notify local authorities if they suspect dogfighting activities in their communities.
Despite being a felony in all 50 states, dog fighting continues to be a popular underground activity, with thousands of dogs being fought or bred in almost every state. The ASPCA estimates that there are tens of thousands of dog fighters in the U.S., forcing dogs to train, fight, and suffer at the hands of humans every year. Losing dogs are often killed, sometimes by shooting, electrocution, or drowning. These animals fight in urban, suburban and rural settings in all regions of the country. And dog fighters and individuals who attend these events are just as varied. Lawyers, judges, teachers, high school football coaches and veterinary technicians have all been arrested in connection with dog fighting.
The ASPCA continues to tackle the dog fighting rings through investigations, law enforcement training, legislation, advocacy and rehabilitation of dogs seized during dog fighting raids. For more information on the ASPCA's efforts to tackle dog fighting and learn about the #GetTough campaign, please visit www.aspca.org/gettough.