The ASPCA® (American Society for the Prevention of Cruelty to Animals®) today announces the digital release of its documentary Second Chance Dogs, on Netflix. The documentary takes viewers behind the scenes of the ASPCA Behavioral Rehabilitation Center and follows six dogs rescued from cruel conditions and given new hope for happy lives. Through innovative therapies and dedication to recovery, behavior experts at the ASPCA's Behavioral Rehabilitation Center help these vulnerable and victimized dogs become suitable for adoption.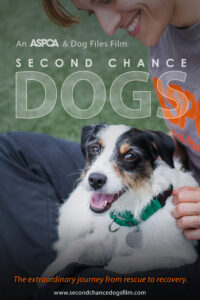 "Animals traumatized and betrayed by abuse and neglect are still at risk when adoption is not yet appropriate, but programs like the Behavioral Rehabilitation Center help rebuild their trust so they can be placed in safe and loving homes," said Matthew Bershadker, President and CEO of the ASPCA. "Watching this process unfold in 'Second Chance Dogs' helps people understand that we can change the fate of these animals when we understand the possibilities and commit ourselves to that goal."
Launched in March 2013, the ASPCA Behavioral Rehabilitation Center at St. Hubert's Animal Welfare Center in Madison, N.J., is the first-ever facility dedicated to providing behavioral rehabilitation to canine victims of neglect and cruelty, such as those confiscated from puppy mills and hoarding cases. Dogs admitted to the center undergo an intensive rehabilitation regimen, with the goal of improving their well-being and helping them become suitable for adoption. To date, the center has worked with more than 300 homeless dogs from various backgrounds, many of whom have already been adopted through the ASPCA's network of rescue groups and shelters across the country.
"Dogs who come through our Rehab Center have experienced so much pain and suffering at the hands of humans, and they've never had a chance to live their lives as pets," said Kristen Collins, senior director of ASPCA Anti-Cruelty Behavior Rehabilitation. "By implementing behavior treatments based on sound scientific principles, we're able to help the vast majority of these dogs overcome their fears and become comfortable with normal pet activities like walking on a leash, enjoy petting, and playing with toys."
"We hope animal lovers across the country enjoy the film and feel inspired to open their hearts and homes to abused and neglected dogs," added Collins. "They deserve a second chance."
Second Chance Dogs is executive produced by the ASPCA and The Dog Files. The documentary was written, directed and edited by Kenn Bell.
For more information, please visit www.secondchancedogsfilm.com or access the documentary on Netflix at www.netflix.com/title/80136234
About the ASPCA®
Founded in 1866, and celebrating its 150th birthday this year, the ASPCA® (The American Society for the Prevention of Cruelty to Animals®) is the first animal welfare organization in North America and serves as the nation's leading voice for animals. More than two million supporters strong, the ASPCA's mission is to provide effective means for the prevention of cruelty to animals throughout the United States. As a 501(c)(3) not-for-profit corporation, the ASPCA is a national leader in the areas of anti-cruelty, community outreach and animal health services. For more information, please visit www.ASPCA.org, and be sure to follow the ASPCA on Facebook, Twitter, and Instagram.