See a dog film – and help shelter pets, it's just that easy.
The Dog Film Festival returns to New York City during Adopt a Shelter Dog Month. The festival celebrates the remarkable bond between dogs and their people and will benefit the Mayor's Alliance for NYC's Animals with 50% of proceeds.
On Saturday, October 15, the Dog Film Festival will take over the Symphony Space on the Upper West Side – 2537 Broadway (just below 95th)  Get your tickets right here.
The festival, perfect for dog lovers of all ages, comprises four separate programs of entirely different canine-themed films. Each screening includes documentary, animated and live-action shorts that illuminate the human-canine bond, submitted by dog-loving filmmakers from around the world.  Here's a link to the trailer:  http://www.dogfilmfestival.com/new-york-city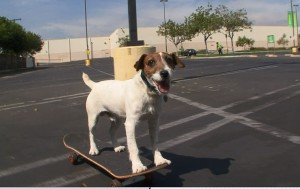 The Petco Foundation, whose goal is to help every animal live its best life, is the national Presenting Sponsor of the festival.
"We are thrilled to help bring the Dog Film Festival to cities across the country," said Susanne Kogut, executive director of the Petco Foundation. "This series of films visually relay the Petco Foundation's core mission to create a better world for animals and the people who love them. We are excited to celebrate with all dog lovers during this fun-filled festival and showcase these wonderful films that demonstrate the positive impact dogs have on people's lives."
K-9 Advantix II is also generous supporter of the 2nd Annual Dog Film Festival.  Additionally, Halo, Purely for Pets and Freekibble.com will donate 10,000 bowls of natural food to shelter dogs in the New York City area.
The films shown at the festival are appropriate for all members of the family and each program will run approximately 2 hours long.  Here's a complete show listing with times:
DOGS BRITISH STYLE The English View of Dogs (11 AM) Featuring the first-ever public screening of the madcap feature film "SNIFF" (87 minutes). It's a lark of a story that feels like half "Best in Show" and half Monty Python, starring Amanda Plummer as the proprietor of a dog-friendly spa. Two daft English actors take jobs wearing dog costumes to greet hotel guests as a way to finance the documentaries about dogs that each of them wants to make – which become part of the story. This film is preceded by 30 minutes of distinctly British short films. "Rocket" (2 minutes) came out of the "1,000 Londoners" film series and depicts how Jennifer Sheridan, the owner of an adorable terrier, became a filmmaker to make her dog the subject of his own film; "Pup Culture" (10 minutes) is Elle Marsh's documentary
About the delightfully odd ways that dogs are part of British life; "Nobody's Perfect" (7 minutes) is a touching documentary about an Australian couple whose pack of dogs each has their own disability but "carries on regardless;" "For the Love of Dog" (9 minutes) is Kylie Cushman's charming documentary that stylishly looks at the various ways owners describe their love for their dogs.
DOGS IN THE SNOW: Adventure & Exploration (2 PM) Featuring the documentary "Mystery of the Arctic Cairn," (53 minutes), a gloriously photographed nature film that follows a team of intrepid explorers and their four-dog equipment sled as they set out on a perilous journey across snow and ice. They are searching for the near mythical "cairn" (a monument of stones) left behind by the Norwegian explorer Rasmussen, the first to map the Arctic Circle. This film will delight anyone wanting to know what extreme frozen exploration looks and feels like, with stunning photography of the Polar region and its all white wildlife – pure white Polar bears, foxes, wolves, and rabbits. This film is preceded by an hour of short films from all over the world – from intense outdoor sports with dogs to goofy outings in the snow with them. "The Fable of the Wolf" (2 minutes) is Jordan Bloch's artfully animated story of wolf evolution; "Pull" (2 minutes) by Goh Irimoto, is a close up view of dog sledding; "Lola on Ice" (1 minute) is Anita Geoerge's claymation; "Dog Power" (33 minutes) is Kale Casey's look inside the many thrilling competitive sports in snow and other natural conditions that connect people and their dogs on sleds, skis, wheelchairs and on foot; "My Trail Dog" (4 minutes) is Dean Leslie's lyrical look at a man who is a loner who runs the Alps for the joy of it, with his dogs, who are his closest companions; "One Man and His Dog" (3 minutes) is Dean Saffron's look at one Australian man's joyous skate boarding with his Samoyed; "Snowmaggedon" (3 minutes) is Rachel Sokolowski's very funny home
video of how a Border Collie handles ice floes on a New England beach.
WHO RESCUED WHOM? Love Makes The World Go Round (5 PM) Second chances for dogs and people in a series of films exploring companionship, forgiveness, patience and love in forming the human-canine bond, from senior dogs getting a last chance at love to complicated canine-human relationships. Thought-provoking and uplifting films including "Love Unleashed" (14 minutes), a happy-endings documentary by Kacey Klonsky about senior dog adoptions; "Pete the Dog" (9 minutes) by celebrated filmmaker Benita Raphan is her deeply affecting documentary about a puppy mill/pet store puppy she adopted from a shelter and the lasting harmful effects he suffered from his socially deprived beginnings; "Second Chances" (4 minutes) by Michael Raab about prisoners who train shelter dogs and hand them to their new adopters; "Steadfast Stanley" (4 minutes) is John Kim's powerful animated film about canine loyalty; "Street Dogs" (5 minutes) is Tim Askew's social documentary about the spay/neuter/return attempts to improve life for street dogs around the world; "Dogs: Guilty of Jealousy" (9 minutes) is a psychological dog's-eye-view of w, 
THE CHAMPIONS – And Other Tales of Redemption (8 PM) "The Champions" (93 minutes) is Darcy Dennet's masterful documentary that chronicles the Michael Vick dog fighting case and follows the rehabilitation of the pit bulls involved, at Best Friends Animal Sanctuary in Utah. This story is one of hope and second chances as it shows the power of love and how with patience and mindfulness adversity can be overcome. The film follows the eager adoptive homes that eventually welcome these dogs into an entirely different life. The film is preceded by 30 minutes of funny or touching short films about the ways dogs complete our lives. "DOG" (5 minutes) by Barry Stone is a funny voice-over view of life from a dog's POV; "#lakehollywood" (6 minutes) is Rachel Sondag's wry narrative film about a couple and where the dog fits in their relationship; "The Dogist" is E.J. McLeavey-Fisher's biographical sketch of NYC's renowned street dog photographer Elias; "Couleur" is Kristin Pileri's beautiful animated film about a Parisian dog who discovers how to bring color to the world.
The Alliance for NYC's Animals, which will receive 50% of the festival proceeds, will host one of its participating organizations on its adoption van, featuring dogs looking for their forever homes.
"We are honored to have been selected as the beneficiary of the 2016 Dog Film Festival in New York City," says Jane Hoffman, President of the Alliance for NYC's Animals. "The Festival offers an excellent opportunity to educate people about pet adoption and other pet-related topics, to honor dogs as true family members, and to celebrate the human-canine bond. We are delighted to be a part of this year's celebration."
The festival is a way for founder and animal wellness advocate Tracie Hotchner to share her love for dogs and give back to organizations working hard for pets in need.
"In 2015, I imagined a Dog Film Festival and dreamed it could become an annual event in New York City," said Hotchner.  "The enormous audience reaction and the huge turn out I got at Symphony Space last year gave me the determination to take the festival around the country, where it has found an equally passionate and appreciative welcome. I've had the incredible good fortune of a guardian angel making it all possible — Susanne Kogut, the head of the Petco Foundation, who gave me a grant to spread the Dog Film Festival message nationwide: the remarkable love dogs have for people and the daily miracles of people rescuing them to complete their own lives."
Tickets for the Dog Film Festival are $15.00 for adults and $10.00 for children per screening and can only be purchased directly from the Symphony Space via online or at the door. For the link and more information go to www.DogFilmFestival.com
About the Dog Film Festival
In 2015, the first Dog Film Festival™ grew out of Tracie Hotchner's desire, as a pet wellness advocate, to expand her Radio Pet Lady Network's outreach to educate the public about adoption, pet wellness issues and philosophical aspects of pets in our lives. The festival is a unique way of honoring dogs as true family members by bringing together like-minded people to experience and