Sant Ambroeus Coffee Bar at Loews Regency Hotel and  Sassafrass Jones are partnering for a special event celebrating the heartwarming children's tale, "Sassafrass Jones and the Search for a Forever Home." The holiday classic teaches the importance of celebrating our differences and caring for animals in need.
The afternoon will be filled with festive activities for families and pet lovers, holiday photo opportunities with a live Sassafrass Jones, a silent auction and raffles. Holiday inspired sweets and hot cocoa will also be offered for children, and puppycinos will be available for the furriest member of the family to enjoy on Wednesday December 17th from 4:00-7:00 pm at  Sant Ambroeus Coffee Bar at Loews Regency Hotel – 540 Park Avenue (entrance is on 61st street, between Park and Madison Avenue)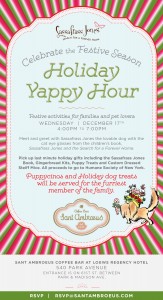 What a great capper this would be to a day in the city with your kids, and great chance to start a celebration of the human-animal bond that should be a life long treasure for your children.  Best of all, proceeds from the event will benefit The Humane Society of New York providing shelter to homeless pets for more than 100 year.
SASSAFRASS JONES AND THE SEARCH FOR A FOREVER HOME
Readers of all ages will be charmed by Sassafrass Jones and the Search for a Forever Home – a whimsical tale of two plucky outsiders Sassafrass Jones, a perky Pekingese with a delicate eye condition and Madeline, a lonely fashionable milliner mouse of Habersham Forest who find each other and the courage to pursue their dreams. Even if you're a tiny stray dog, looking at the world through chartreuse-framed cat eye glasses, 'nothing is impossible'. All the answers await inside as you're transported into authors Cathleen Smith Bresciani and Richard L Eldredge's magical world of Sassafrass Jones and the Search for a Forever Home, featuring more than 50 full-color, beautifully detailed images by photographer Tomas Espinoza and sets created by Christopher J. McClellan. INCLUDED: Audio Book CD Narrated by Fred Schneider of The B52's Proceeds from the sale of this book will go to benefit Canine Companions for Independence, The Humane Society of New York, amongst others both nationally and locally.
Humane Society of New York
For over 100 years, the Humane Society of New York has been a presence in New York City, caring for animals in need when illness, injury or homelessness strikes. In 1904 we were founded to protect the city's horses against abuse. Members fought for laws to punish negligent owners and place watering troughs in streets and parks. As funds allowed the Society expanded to include a free medical clinic and a small adoption center for cats and dogs. Today our hospital and our Vladimir Horowitz and Wanda Toscanini Horowitz Adoption Center help more than 38,000 dogs and cats annually, and their numbers continue to grow. www.humanesocietyny.org
Sant Ambroeus Restaurant Group:
For thirty years, Sant Ambroeus has served as New York's most beloved and authentic Italian restaurant, offering contemporary Milanese cuisine and flawless service in unrivaled locations, delighting locals and visitors alike. The original Sant Ambroeus opened its doors in Milan in 1936, and quickly acquired a devoted following in northern Italy's cosmopolitan capitol. The original pasticceria and confetteria became the meeting place of the local intelligentsia, who began their day with Sant Ambroeus legendary cappuccino and sweet cornetto, savored crusty panini at lunch, and enjoyed evenings of refined Milanese cuisine in the restaurant's elegant dining room. Visionaries Gherardo Guarducci and Dimitri Pauli have translated these old-world sensibilities from the original Sant Ambroeus location to appeal to American diners, importing generations of Italian culinary tradition to a selective group of New York neighborhoods: Southampton, the Upper East Side, the West Village, and now SoHo as well as Midtown with the debut of Sant Ambroeus Café at the Loews Regency Hotel. Each Sant Ambroeus restaurant recollects these authentic Milanese origins, building upon these time-honored traditions while broadening Sant Ambroeus' clientele and vision. For more information on Sant Ambroeus, please visit www.santambroeus.com.
About Loews Regency Hotel
The iconic Loews Regency Hotel reopened on January 16, 2014 following an extensive revitalization. The transformed property features 379 guest rooms including 58 suites; The Regency Bar & Grill, home of the "Power Breakfast" by Sant Ambroeus Hospitality Group; and the new flagship salon of the famed hairstylist Julien Farel, which incorporates a premier spa. Located in the heart of Midtown Manhattan on Park Avenue, Loews Regency offers exceptional service and world-class amenities, optimal for conducting business or taking advantage of the city's best shopping, cultural experiences, and dining. For reservations or more information about Loews Regency, call 1-800-23-LOEWS or visit: www.loewshotels.com/Regency-Hotel.