Ever wonder which dog toys are the best? How long will they last? What is actually inside of those toys? Here on A Toy Story on NewYorkCityDog.ORG we'll be testing and reviewing toys to help take some of the mystery out of your dog toy shopping.
Today's toy is the Mighty Red Dragon by MyDogToy.com.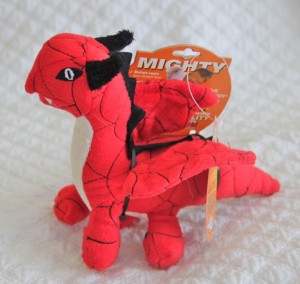 We were attracted the color and sturdy appearance – all seams are double stitched and the fabric is reinforced in vulnerable areas. With two pups in the house our toys get a workout. Finding a toy to stand up to a Husky-Shepard Mix can be a challenge.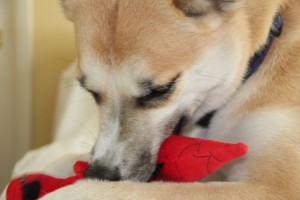 Mighty Toys provides a number for level of durability for each toy. The Red Dragon was rated a 7, with its $14.95 price tag the promise of long lasting wear is appealing.
Here's how the Red Dragon stacked up:
Appearance and attractiveness to dogs: Its a toy! They loved it.
Squeaker Performance: Very good for a larger dog, our small (Yorkie) dog was unable to clamp down hard enough to produce the beloved "Squeak!!!", so we could sense his frustration. Probably a less durable toy would have been better for a small dog.
Tossability: Excellent, it has a little bounce making it that much more fun.
Washability: Very good
Price:
Would we buy it again? Yes
After three weeks of rough play with two dogs – the Dragon is still looking awesome!