Lots of us remember the Saturday morning cartoon episodes with cunning kitty cats outsmarting the good natured but dim-witted family dog. The truth is that with responsible pet parenting, cats and dogs can get along just fine – and even enjoy each other's company.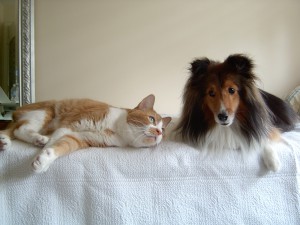 The cat and dog featured in this image, are not actual housemates but just friends photographed in the cat's home where the dog is a frequent visitor.  Cats can bring a whole new dimension of animal love to your home and family.
In many cases the success of the relationship can hinge on first impressions – and that encounter should be orchestrated by you.  For the first couple of days it is suggested that cats and dogs share the house but not the same room.  depending on the size of your dog … and the layout of your house, you may be able to use a pocket door or a baby gate to separate.
For the first meeting, keep your dog on leash, make sure your cat has plenty of escape routes and places to jump up and feel safe.  When your dog sees the cat, give your pup a treat.  Pet his or her head, and reassure him that things are fine.  Take it slowly, don't force it and over time, they'll learn to co-habitate.
If you are adopting a dog and already have a cat – make sure to ask the shelter if the dog is cat-friendly.  This can save lots of time and heartache.   Trust the shelter staff, and choose a dog that they recommend as "cat-tested – and approved."  They may also know if an adoptable kitty has dog experience.   If you are looking to adopt a cat, please visit
City Critters