Your adoptable dog of the week was recently saved from death row at NYACC. Won't you give him a glance and share his story, too?
Snoopy here was a mere 15 pounds when he was rescued by Pibbles 'n More Animal Rescue. Starving and sad, he was a lucky one that was pulled from
the shelter and now he's ready for a home of his very own.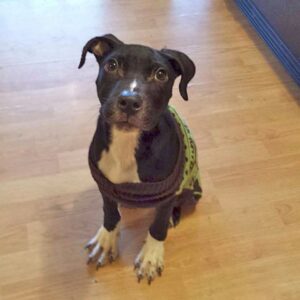 Snoopy is about 9 months old but the size of a 5 month old. He is thriving in foster care and starting to gain weight back slowly.
This handsome lad is good with dogs of all sizes and  really loves all people, too! Snoopy is an absolute love-aholic!  He can't get enough snuggle time and is as sweet as they get.
In spite of being starved, Snoopy has no issues with food or toys. We can't forget to mention he enjoys car rides to the fullest. If you are looking for a laid back easy going guy, Snoopy's your man!!
For more information about Snoopy or to schedule a time to meet him, contact Pibbles 'n More Animal Rescue by emailing [email protected] or visit www.pmarinc.org, where you can also find an adoption application.