Oh the weather outside is frightful. But the fire is so delightful. And since these adoptable pups have no where to go, head on down to the shelter. and bring them home, bring them home, bring them home.
Meet your adoptable dog of the week: Sensitive Stanley. This sweet boy was suffering from neglect and an injury around his eye when he was brought into the HSNY. He has healed very nicely and has became quite the energetic dog despite his age.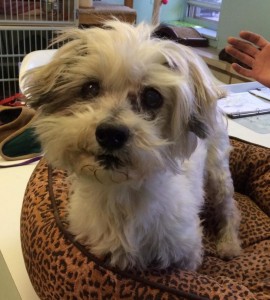 He loves all his human companions and some canine ones, too. This sweet boy is house trained, neutered and up to date on his routine shots.
Stanley is looking forward to meeting a new, loving family to live out the rest of his golden years. Won't you stop by the shelter and check him out? Drop on by HSNY located at 306 East 59th Street between 1st & 2nd Avenue in Manhattan or give them a call at (212) 752-4842. Their adoption hours are 7 days a week between the hours of 10:30am – 4:00pm.
The Humane Society is a no-kill shelter. Their on-site clinic and staff of skilled Veterinarians looks after the health and well-being of every animal here. They offer FREE Vet care for the first 3 weeks after adoption. They also have a great adoption matchmaker who will gladly take your profile and match you or your pet with just the right cat or dog companion. Please feel free to submit your adoption application to [email protected].