Stoli  and Patron are bonded siblings rescued from NYACC. They were surrendered after they lost their home in a fire. These two cuddle bugs need a new foster home but would prefer a forever home of their very own. Stoli & Patron are a little over a year and half old. Great with other dogs, cats and children too. The bond between them is incredible and we are seeking for a home that they can take them both.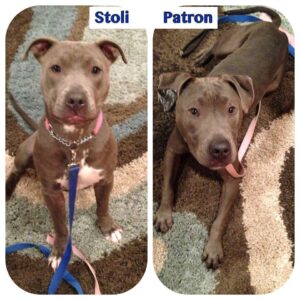 When going for walks, Patron tends to go ahead of Stoli and then periodically stops and looks back to see where she is and then waits for her to catch up. A brief kiss usually follows too. What a gentleman! When separated they are always looking for the other to return and both get extremely excited when reunited.
Patron is a beautiful male and loves attention. He is very alert. Stoli looks like a baby seal and is very timid but loveable at the same time. They love being inside and snuggling on the couch with people. They're excellent with everyone from young children to adults. Both walk very well on leashes during their daily walks, no pulling and they walk with you – both stay at your side and sit when you stop.
Looking for more information? Contact Pibbles 'n More Animal Rescue by emailing [email protected] or visit www.pmarinc.org, where you can also find an adoption application.