Sookie was rescued just in time from NYACC and she's now patiently awaiting her forever home. Sookie is around 2 years old. She gets along great with the other dogs in her foster home but she prefers to live in a home without other female dogs or kitties. This vibrant girl LOVES tennis balls and chews on them like big pieces of gum. She doesn't particularly like to be apart from people but she's slowly learning and will wander off on her own more often.  Sookie's doing great with her crate and obedience training, and walking on the leash is a breeze.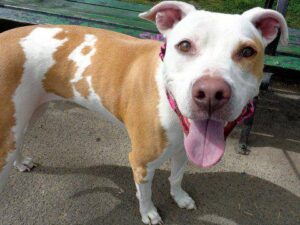 Sookie is a VERY energetic girl who loves to run, wrestle and also help with whatever you are doing. Afterwards she'll be ready for a nice long nap at your feet or on the couch.  She does go through her snuggle periods but either way a tired Sookie is a happy Sookie!  Be sure to check out her video!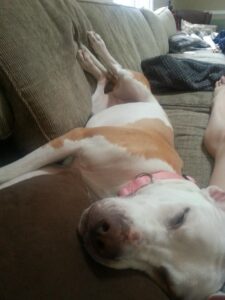 For more information about Sookie, contact Pibbles 'n More Animal Rescue by visiting their website for an adoption application or feel free to email them at [email protected].