What's better than a day out with your pup?   The Fort Green Brooklyn Flea is a shopping extravaganza where dogs are welcome.    Each Saturday from April though November, a panoply of vintage clothes springs up along with tables and tables of "smalls" like pottery,
tchotchkes, and jewelry and some furniture are offered at the outdoor flea market.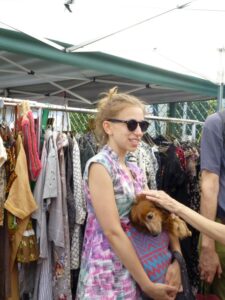 Dogs are welcome at this venue and some vendors offer water.  But its always a good idea to bring your own for thirsty dogs on a hot summer day.   We are also always looking for shady spots to give ourselves and the dogs a rest from the hot summer sun.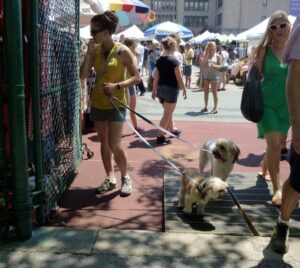 We met this nice couple, Salt and her mom, enjoying some time together.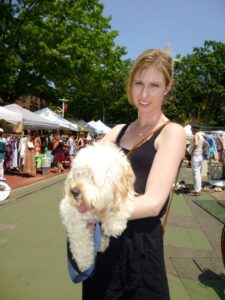 From pupusas to kale burgers there is no shortage of tasty bites to sate your appetite.  We particularly enjoyed the Catskill Coydog Booth where we saw these two drift by.
It can get crowded!  So keep your pup on a short leash and make sure that he or she is safe out of the way of the surging crowd.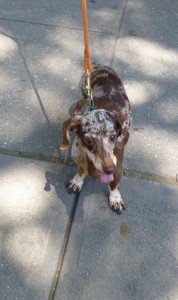 See you at the Flea!
The Fort Green Brooklyn Fleas is open from 10-5 on Saturdays, April through November, at 176 Lafayette between Clermont and Vanderbilt,  For Directions, click here.