Did you know that there are between 6-8 million cats and dogs that enter animal shelters all across the United States? Here's an adoptable pup just waiting to skip out of shelter confinement and into a loving forever home.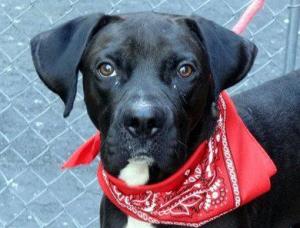 Jackson here is a year and a half old male Labrador Retriever/Dane mix. This handsomely tall boy was recently rescued from NYACC. Jackson is a good boy who gets along great with other dogs and cats. Jackson does know some basic obedience commands but has a tendency to show some resource guarding. After Jackson's rescue from doggie death row, his pending adoption fell through and he's currently stuck in Pibbles 'n More Animal Rescue's boarding facility.
All of PMAR's animals are examined by a veterinarian, given age-appropriate vaccinations, dewormed, heartworm tested and treated if necessary. Vet references are required and prior to adoption a home inspection will be conducted. Adoption fee applies.
If Jackson looks like a match for you, visit PMAR's website for an application or feel free to email them at [email protected].