Friday is here, NYC! Time to check out a deserving dog ready for adoption this week: Meet Olivier!
This tuxedo gentleman is a Boston Terrier mix. Olivier takes his time to get to know you but once he accepts you, you'll have a best friend for life!  He's an extremely loyal guy and quite the athlete.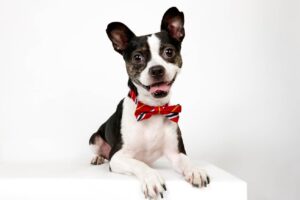 Olivier loves to sit in your lap and be by your side.  When he is happy, he literally smiles from ear to ear.  He will require an experienced owner and prefers to be the only pet in the household.  Olivier does like other animals but sometimes has a strong and sometimes overwhelming way of showing his love and affection. In fact, his best friend at the shelter is a kitten named Felix.
We'll never know what this sweet boy went through before his stay at the Humane Society but Olivier has worked really hard to get to where he is and the staff at HSNY is very proud of him! Won't you come scoop him up before his third birthday in June?
For more information or to schedule an appointment to meet Olivier, contact the Humane Society of NY by calling 212-752-4842 or stop by their Manhattan shelter located at 306 East 59th Street.