At our house, dog cookies are like gold.  We use them for training, for distracting when someone is at the door and to signal bed time.  Because we are liberal with them in small portions – we want to make sure that they are absolutely healthy and of course delicious.
So in our travels we are always sniffing out local dog bakeries and cookie makers that use high quality ingredients.  Last week we found Life is Gruff at Harbor Pets in Sag Harbor.  The cookies were presented in a small brown paper bag with a full ingredient list on the back.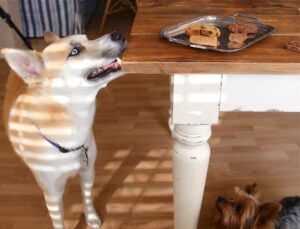 You could smell the home-baked flavor through the little bag – even for us the scent of cinnamon, vanilla, peanut butter and honey smelled really yummy.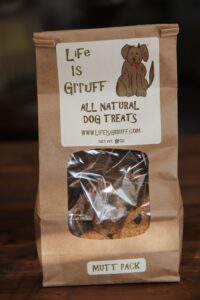 We opted for the Mutt Pack which included about 6 different varieties of cookies in different sizes and shapes.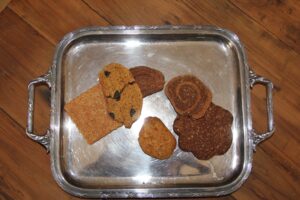 Some cookies were drops, some cut-outs, some cracker-like wafers and one that looked like biscotti with little carob chips.  Our first taste test. . .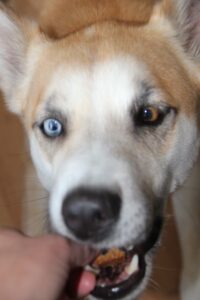 was conducted with extreme concentration.  By the way, the cookies in the bag were best suited for a large dog.  Kodiak, pictured here is a 52 lb dog and he was able to easily handle a full cookie.  We broke the larger cookies in to many small pieces for our Yorkie.   All of the flavors were well received and resulted in a beautiful sit, stay and may I have another?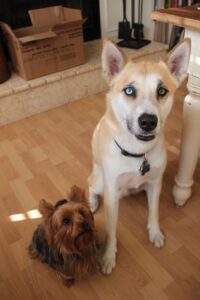 The cookies ingredient lists all start with whole wheat flour, save the Liverlicious – which of course started with chicken liver.  Other components were pumpkin, honey, canola oil, peanut butter and vitamin based preservatives.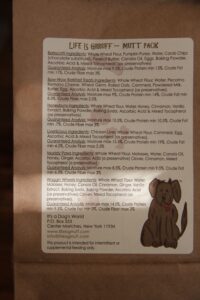 Life is Gruff was started in the kitchen of the owner Kimberly Loper, she wanted to feed her dog Trooper all natural recipes. Kim wasn't comfortable with the strange ingredient lists or the fact that her dog's food and treats were made in some factory in China. After some experimenting she found  that she could create made from scratch cookies that were safe and wholesome.  After gauging the appetite for the cookies at some Long Island at Farmer's Markets, Kimberly has now expanded the business along with her partner Andrew LoMonacoto make Life Is Gruff products available in local pet stores. Their focus is always on healthy ingredients and creating tasty treats!
NewYorkCityDog.org gives Life is Gruff cookies the Many Wags Stamp of Approval.  Kimberly will also be giving back to help dogs in need at local animal shelters.