Hope you're staying warm out there, city-dwellers. Need a new snuggle buddy in your life? Then meet Baby.
She is a long-haired, red coated Dachshund. She's also just absolutely adorable and completely aware of it. The HSNY shelter will be celebrating her 4th birthday on April 19th, unless of course she's adopted! Baby is playful , energized and ready to rock! She LOVES attention and belly rubs and will jump in your lap and roll on her side as if you have been doing this with her for years.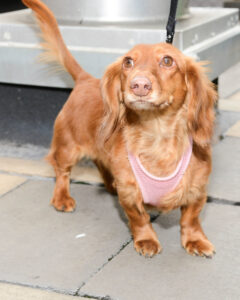 Baby is extremely trusting and loving to all who pay her an ounce of attention. She has all the qualities of a typical Doxie so anyone who has ever had this breed will immediately understand her and anyone who hasn't will understand real fast. She is also paper trained and was given a clean bill of health.
Like all dogs at the Humane Society of New York, Baby is spayed and up to date on her routine shots. For more information or to schedule an appointment to meet Baby, contact the Humane Society of NY by calling 212-752-4842 or stop by their Manhattan shelter located at 306 East 59th Street.