Looks like it's going to be another chilly weekend, NYC. If you're looking for a canine companion to snuggle up with, then you will fall in love with your adoptable dog of the week, Jayla.
This beautiful taupe colored pup is just 2 years old and she is a female pit-bull.  Her incredible eyes match her furry tones perfectly. Jayla was rescued from NYACC as a very skinny girl. When she arrived to boarding with Pibbles 'n More Animal Rescue, it was apparent that the shelter had missed something. Jayla had a pretty round belly and after a week, she had 9 beautiful puppies.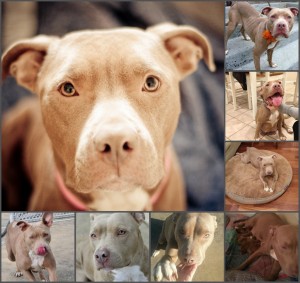 All the pups were successfully adopted but now its mommas turn! Jayla loves people of all ages and is great with kids. She gets very excited to see her foster family come home and wiggles and jumps around at the anticipation of greeting them. She is full and solid, weighing in at a strong 60 pounds and she still thinks she is a lap dog. Due to her size and young age, it's recommended she goes to a home with children over the age of 12.
She is pet friendly and doesn't seem to mind the other dogs. Jayla loves to run in the yard, car rides and going for long walks. She is completely house broken, crate trained and knows some basic obedience commands. For more information or to fill out an adoption application, visit PMAR's website here.