Only 2 more shopping weeks til Christmas! What better gift than the one that keeps on giving? Like animal adoption. Check out your adoptable dog of the week, New York: Meet Clyde!
Clyde and his old pal Bonnie (previously featured on NewYorkCityDog.org) took a road trip together a couple weeks ago. Bonnie found her home and now it's definitely Clyde's turn!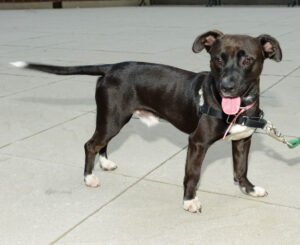 The staff at HSNY believe Clyde is more than likely a Dachshund & Labrador mix.  Whatever he is though, they just KNOW he is awesome. He's very playful, super fun, and especially outgoing.  He loves all people and enjoys giving them hugs.
One thing's for sure: He's a BIG lover.  Clyde has quite a goofy side to him but he can sit still for a treat, no problem.  This two year old boy was featured as a taco for Halloween. Adorable! For more information, contact the Humane Society of New York by contacting their Manhattan facility at 212-752-4842 or stop by 306 East 59th Street, 10022.