December begins tomorrow and with the holidays fast approaching, why not consider opening your home and give the gift that keeps on giving – animal adoption. Not only are you opening a spot for a homeless animal at the shelter but you're also enriching your life with a bundle of constant love and affection. So come meet your adoptable dog of the week: Shirley.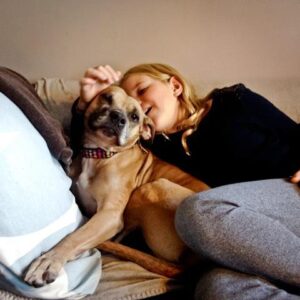 Shirley (aka Shirley Girly) is a beautiful Pit Bull mix who has gone from a lonely pup living with a breeder to Animal Control and now lives the good life with her foster mom. She is around 5 years old and weighs about 45 pounds. Shirley would do great in a home with children over 8 years old (as you can see above), cats and/or dogs.
She can be a bit much for the younger kids as she is very wiggly and her tail is its own entity. Shirley has so much love and enthusiasm for the world. She seems to trust and love everyone she comes in contact with.  She is a sensitive little girl and tender-hearted, so a family that is patient and compassionate would be the best match.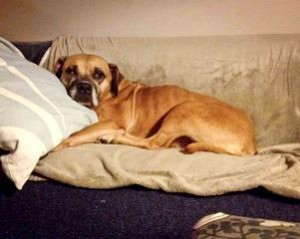 Shirley prefers to sleep in bed with you but also enjoys her crate as a cozy and safe spot. She is very laid back and mellow. Also completely house trained, loves long walks and she's really excelling in basic obedience training. Come meet this ridiculously charming girl being fostered in the Park Slope area of Brooklyn. Contact Pibbles 'n More Rescue, Inc. by visiting their website.
Warning: I am a lover who could give kisses all day Check out her video here.