This pretty gal is a tan and white Beagle mix. She is a larger breed dog, though the shelter is unsure what that other mix would be exactly. She was born back in 2008, making her about 4 years old.  Miss Mabel has a lot of mother-like qualities to her, as she is caring and well mannered.  She is also super sweet natured and has very kind eyes.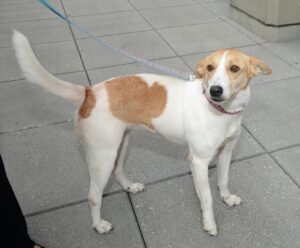 She was found in the South, a Southern Belle, but her heart is in the big city now!  Miss Mabel is housebroken and walks like an angel on a leash. This pretty girl would fit right into a home with another dog but prefers one without felines. Like all dogs at HSNY, Miss Mabel is fully vetted, microchipped and spayed.
For more information about Miss Mabel, contact the Humane Society of New York located at 306 East 59th St. (between 1st and 2nd Avenue) in Manhattan or drop them a line by calling 212-752-4810.