It's almost time to turn the clocks back for daylight savings time. Get out and about with your canine companion and soak up all the sun you can stand. Looking for another pup addition in your home? Check out Te'sa, your adoptable dog of the week.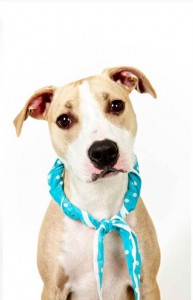 Te'sa here is a very expressive light tan and white Bull Terrier mix.  She is very smart and energetic, knows her basic commands and is housetrained.  The ideal home for this sweetheart would be with someone who can allow her ample time to exercise and let out some of that energy.  Her big brown eyes will melt any heart and her cute lil strut will certainly get your attention!  Te'sa just turned one this month, and what's on the top of her birthday list?  Her forever home.
For more information about this adorable pooch, contact the Humane Society of New York located at 306 East 59th St. (between 1st and 2nd Avenue) in Manhattan or drop them a line by calling 212-752-4810.