Tomorrow is the Annual My Dog Loves Central Park Country Fair.     Come down to the Naumberg Bandshell (it's about mid-Park at 72nd Street) from 11:00 am to 3:00 pm.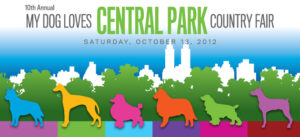 Games, contests and tons of useful tips for dog owners.   The Best in Park contest will allow you and your dog to demonstrate your skills in three different competitions.
Got training questions?  Bring them on!  Trainers and other canine experts will be on hand to answer questions and give tips.  Wear layers!  It will be sunny and cool.
The Central Park Conservancy is hosting this event now in its 10th year.
See you at the Park:  Saturday – October 13th from 10-3.  Watch this site for pictures of tomorrow's event.