Update: As of 10/15/12, Violet has been adopted!
Tomorrow, August 18th has been designated as International Homeless Animals' Day. Celebrate the day with your rescued pooch or head down to the Humane Society of New York and adopt a new furry family member to commemorate the day.
Check out one of HSNY's current residents: Violet. Violet here is a very sweet and loving long-haired Chihuahua.  HSNY tells us that in their book, she wins the Sweetheart of the Year Award, hands down. Violet is 8 years old and thoroughly enjoys slow walks around the block as well as catching the sunset on cool summer nights.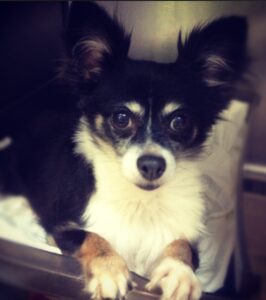 She would make a great companion for someone who leads a relaxed lifestyle, as she is a calm and quiet little gal. Just look at that sweet tiny face! Like all pups up for adoption at HSNY, Violet is spayed and up-to-date on her routine shots. For more information about this petite darling, contact the Humane Society of New York located at 306 East 59th Street, New York, NY 10022 by calling 212-752-4840 or feel free to visit their website.