Update: As of 10/15/12, Ginger has been adopted!
August has arrived and so has another deserving adoptable dog awaiting their forever home. Meet Miss Ginger!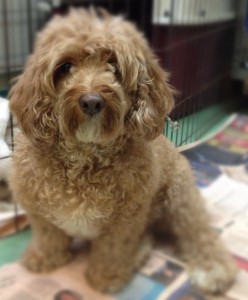 Ginger is a soft and fluffy Cocker Spaniel mix. She'll be celebrating her 4th birthday this November. As you can see from her photo, Ginger has a gorgeous apricot coat of curly, kinky hair. The HSNY tells us she dances in that beautiful fur of hers…like the twist! Come see how cute it is for yourself! The staff has been patiently trying to catch a quick video of her, but she's a camera shy gal.
We're told Ginger is a very sweet lady and is the happiest dog you'll meet. She's full of life and would fit into any home and family perfectly. But don't just take our word for it. Visit this ray of sunshine at the Humane Society of New York located at 306 East 59th Street, New York, NY 10022 or feel free to visit their website. Like all dogs at HSNY, she is spayed and up-to-date on all her shots.