The ASPCA® (The American Society for the Prevention of Cruelty to Animals®) today officially kicked off the 2012 ASPCA Rachael Ray $100K Challenge, a three-month competition where 50 animal shelters from across the country will work to increase adoptions in order to win a piece of the more than $500,000 in ASPCA prize grants, including a grand prize of $100,000.
Starting today and continuing into the weekend, the contestants will hold special kick-off events around the country in an effort to get off to a strong start in the competition. Many contestants are planning big adoption events, unique promotions and discounts on adoption fees, and more. To find a contestant near you, please visit http://challenge.aspcapro.org/contestants. To see a complete list of events as they are scheduled – including those scheduled for this week's kick-off – please stay tuned to http://challenge.aspcapro.org/events throughout the contest. Starting today, the ASPCA also will join the contestants and all of their supporters in tweeting with the unique hashtag #100KChallenge. The ASPCA encourages animal lovers to use #100KChallenge on Facebook and Twitter to help spread the word about adopting animals from shelters in the contest.
"We've been watching as the contestants gear up for events and get the most wonderful animals ready for adoption," said Bert Troughton, vice president of community outreach for the ASPCA. "We can't wait to see the photos of all those happy families who will find their new best friends over the next three months. In this competition, everybody wins – especially the animals!"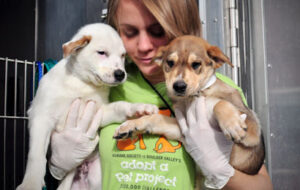 All her life, Rachael Ray has been an advocate for animals and a supporter of animal welfare groups. Her love for animals and for her pit bull, Isaboo, inspired her to create a pet food called Nutrish® to raise money for animals in need.  Ray donates 100 percent of the proceeds from the sale of Nutrish® to organizations like the ASPCA so they can implement programs like the $100K Challenge and support shelters and animal organizations around the country.
The contestants will work to save at least 300 more cats and dogs during the months of August, September and October 2012 than they did during the same period in 2011. The ASPCA and Rachael Ray will award a $100,000 grand prize to the shelter contestant that achieves the greatest increase in lives saved during this three-month period. A second place prize of $25,000 will be awarded to the shelter with the second greatest increase in lives saved, and the contestant that does the best job of engaging its community members in helping to save more animals will win $25,000. Those organizations that do the best in their divisions will be eligible for between $5,000 and $40,000 in additional grants.
The 50 shelters competing in the 2012 ASPCA Rachael Ray $100K Challenge are:
In the West Division:
Kern County Animal Control in Bakersfield, Calif.
Animal Outreach of the Mother Lode in Diamond Springs, Calif.
Escondido Humane Society in Escondido, Calif.
Marin Humane Society in Novato, Calif.
Animal Friends Rescue Project in Pacific Grove, Calif.
San Bernardino County Animal Care & Control in San Bernardino, Calif.
Animal Friends of the Valleys in Wildomar, Calif.
Canyon County Animal Shelter in Caldwell, Idaho
Nevada Humane Society, Reno, Nev.
Greenhill Humane Society in Eugene, Ore.
Humane Society of Central Washington in Yakima, Wash.
In the Northeast Division:
Bangor Humane Society in Bangor, Maine
Baltimore Animal Rescue and Care Shelter (BARCS) in Baltimore, Md.
Talbot Humane in Easton, Md.
Montgomery County Humane Society in Rockville, Md.
Eleventh Hour Rescue in Randolph, N.J.
Humane League of Lancaster County in Lancaster, Pa.
The Pennsylvania SPCA in Philadelphia, Pa.
Animal Friends, Inc. in Pittsburgh, Pa.
Animal Rescue League Shelter and Wildlife Center in Pittsburgh, Pa.
Last Chance Ranch, Inc. in Quakertown, Pa.
In the Southeast Division:
Central Brevard Humane Society in Cocoa, Fla.
Broward County Animal Care and Adoption Center in Ft. Lauderdale, Fla.
Flagler Humane Society in Palm Coast, Fla.
Seminole County Animal Services in Sanford, Fla.
Big Dog Ranch Rescue in Wellington, Fla.
The Humane Society of Charlotte in Charlotte, N.C.
Oconee County Humane Society, Inc. in Seneca, S.C.
Young-Williams Animal Center in Knoxville, Tenn.
Portsmouth Humane Society in Portsmouth, Va.
In the South Central Division:
Arizona Animal Welfare League & SPCA in Phoenix, Ariz.
HALO Animal Rescue in Phoenix, Ariz.
Humane Society of Southern Arizona in Tucson, Ariz.
Santa Fe Animal Shelter & Humane Society in Santa Fe, N.M.
Tulsa Animal Welfare in Tulsa, Okla.
Beaumont Animal Services in Beaumont, Texas
Denton Animal Shelter Foundation in Denton, Texas
BARC Animal Shelter & Adoptions in Houston, Texas
City of San Antonio Animal Care Services in San Antonio, Texas
In the North Central Division:
Winnebago County Animal Services in Rockford, Ill.
City of Bloomington Animal Care and Control in Bloomington, Ind.
Heartland SPCA in Merriam, Kan.
Friends for the Dearborn Animal Shelter in Dearborn, Mich.
Kent County Animal Shelter in Grand Rapids, Mich.
Ashtabula County Animal Protective League in Ashtabula, Ohio
Humane Society of Greater Dayton in Dayton, Ohio
SICSA in Kettering, Ohio
Toledo Area Humane Society in Maumee, Ohio
Medina County SPCA in Medina, Ohio
Bay Area Humane Society in Green Bay, Wis.
The ASPCA Rachael Ray $100K Challenge is a groundbreaking contest that challenges animal shelters across the country to come up with innovative ways to engage their communities and get more homeless cats and dogs into loving homes. For more information about the 2012 ASPCA Rachael Ray $100K Challenge, please visit www.aspca.org/100kchallenge.
About the ASPCA®
Founded in 1866, the ASPCA® (The American Society for the Prevention of Cruelty to Animals®) is the first animal welfare organization in North America and serves as the nation's leading voice for animals. More than two million supporters strong, the ASPCA's mission is to provide effective means for the prevention of cruelty to animals throughout the United States. As a 501(c)(3) not-for-profit corporation, the ASPCA is a national leader in the areas of anti-cruelty, community outreach and animal health services. For more information, please visit www.ASPCA.org, and be sure to follow the ASPCA on Facebook, Twitter, and Pinterest.
About Rachael Ray
Rachael Ray is best known as the host of the hit syndicated Emmy Award winning daytime television show "Rachael Ray" produced by CBS Television Distribution in association with Harpo Productions, Scripps Networks and Watch Entertainment.   Rachael's warmth, energy, and boundless curiosity also reach millions of fans through her popular Food Network shows, her lifestyle magazine Everyday with Rachael Ray, her bestselling cookbooks, her digital home base www.rachaelray.com, her signature line of cookware manufactured by Meyer, her meal transport products by RR Accessories and her pantry products by Colavita.  In 2007, Rachael launched the Yum-o! organization, a non-profit organization dedicated to empowering kids and their families to develop healthy relationships with food and cooking and in 2008 she partnered with Ainsworth Pet Nutrition to create a line of pet food with all of her proceeds being donated to organizations that help animals in need. For more information, visit www.rachaelray.com.
About Rachael's Rescue ™ and Nutrish
In 2008, Rachael Ray partnered with pet nutrition experts from Ainsworth Pet Nutrition to develop a line of super premium food and treats for dogs called Rachael Ray Nutrish®. Rachael Ray Nutrish® is made with simple, natural ingredients and includes three full-feeding varieties featuring real meat as the first ingredient – Real Chicken and Veggies, Real Beef and Brown Rice, and Healthy Weight with Real Turkey. All of Ray's proceeds from each sale of Rachael Ray Nutrish®, Just 6® food and treats for dogs and the Nutrish Healthy Weight lines are donated to organizations that help animals in need through Rachael's RescueTM (http://www.rachaelsrescue.org). So, not only are Nutrish products great for your dog, they're great for countless other dogs as well.