In anticipation for the Olympics, we'd like to introduce you to the Humane Society of New York's most athletic dog that could put some Olympians to shame – Meet GiGi!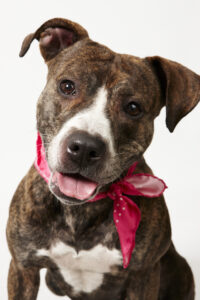 Gigi here is a stunning brindle and white Pitbull mix. We're told she is just an absolutely wonderful and intelligent dog. She is approximately 3 ½ years old. This athletic girl could give some Olympians a run for their money in jumping. Maybe she was one in her past life? Who knows!
Gigi is a great dog who is fully house trained and knows some basic obedience commands as well as some dog tricks. Due to her strong stature, Gigi would do best as the only pet in an experienced dog household. She does love to be around other animals and is a social kind of gal. Stop on down to HSNY located at 306 East 59th St, New York, NY, 10022 or check out their website.