Update: As of 10/15/12, Betty has been adopted!
The weekend has arrived, NYC! Bring on the outdoor get-togethers and let's have some fun! Speaking of fun, we have your adoptable dog of the week; One that simply embodies the word fun. Please meet beautiful Betty.
Betty is a gorgeous Husky mix dog. At the end of the month, she'll be turning just 6 months old, as she was born January 31st. The Humane Society of New York is her current home but we're hoping to change that quickly. HSNY tells us that Betty likes to run on their rooftop run. It's the perfect way to get all her puppy energy out. Why? Because all puppies have to take lots of puppy naps, of course!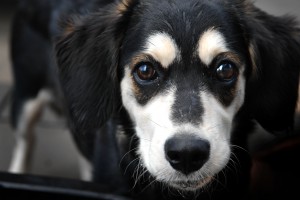 We're told that she seems to have quite a wonderful disposition. Betty is well socialized with both humans and other dogs but has never really been around cats before. She's also excelling nicely in her training as she already knows how to sit. Good girl!
Like all dogs residing at HSNY, Betty is spayed, micro-chipped and up to date on all of her shots. For more information about Betty the Husky puppy, feel free to call 212-752-4842 or visit their facility at 306 East 59th St. (between 1st and 2nd Avenue) in Manhattan. Their adoption hours are 7 days a week from 10:30am til 4pm.