UPDATE! This sweetheart has been adopted as of Tuesday, June 26th. Be sure to check out a new adoptable dog every Friday on NewYorkCityDog.org!
This little lady really lives up to her name. Sweet Pea here was abandoned in a fire station. Luckily, firemen are trained to rescue – and that's just what they did for this precious girl. They brought her to the Humane Society of New York, where they knew she would be well taken care of.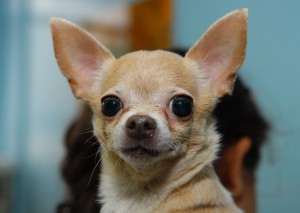 Sweet Pea is a pocket-sized Chihuahua. We're told she is very gentle and a super sweet dog. The staff at HSNY believes she is around eight years old and weighs approximately 3 pounds. Apparently this loveable darling loves to march around and greet everyone who comes to visit the shelter. How cute is that?
She would truly make a wonderful companion as she is calm and laidback. Sweet pea is spayed, microchipped and in excellent health. She gets along great with other animals but due to her small stature, special consideration should be given. Looking for a snuggly lap dog? Sweet Pea is the ultimate match for you!
For more information, visit the Humane Society of New York located at 306 East 59 Street (between 1st & 2nd Avenues) New York, NY 10022. Their adoption hours are 7 days a week from 10:30AM – 4:00PM.