Are you looking for a snuggle pup to join your household? Then look no further! Here's Casey, your adoptable dog of the week, New York City.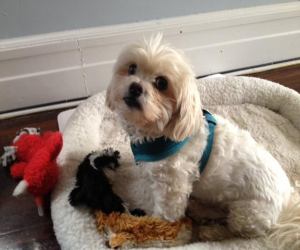 Casey is an 8 year old Maltese and Shih Tzu mix. He is a very playful, happy dog who loves having people around and taking rides in the car. He very much enjoys hanging out in the backyard, or snuggling with a human friend on the couch. Casey gets along great with other dogs and likes romping with children, as well.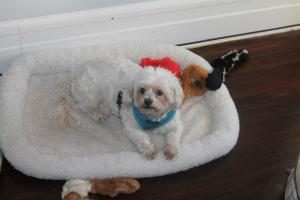 The ideal home for Casey would be a suburban or country setting where he can play outside and where a family member is around at least part of the time during the day or can take him along to work.  Casey is a healthy boy weighing about 15 lbs. He is house trained, though he might need a refresher in his new home.
Casey walks well on leash, but will need a little work on his social behavior while on the leash as he sometimes growl at dogs who are strangers to him. He does not show any aggression toward humans or toward dogs when he is off leash. If you think you would like the super-great Casey as part of your family, contact the Metropolitan Maltese Rescue by sending them an email at [email protected] or feel free to call them at 212-242-1151. Please let them know which pup you are interested in and submit an online Adoption Application form, found on their website.