Meet your adoptable dog of the week, New York City: Handsome Brighton.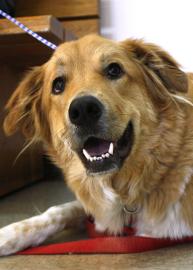 As you can see from his pictures, Brighton is a Golden Retriever mix. He is just under two years old but still acts very much like a puppy. He is very playful, friendly, and social, as his breed tends to be. Check out the video of Brighton that Bideawee was nice enough to share!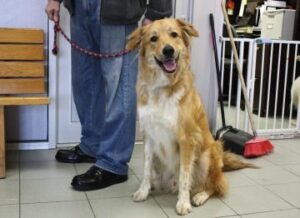 This 61 pound pooch is already housebroken and he has a wonderful temperament. We're told his in previous home that was handled very roughly and therefore has some unsound behaviors. Due to his history, the ideal home for him would be with an experienced dog family with children over age 12. They will need to continue working through the steps in his behavior plan with the support of a Bideawee trainer.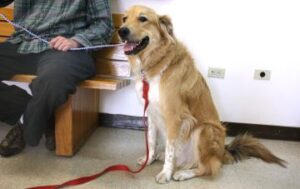 Brighton very much enjoys affection and interaction with both people and other dogs. With that said, he does has a high level of sensitivity to touch on his tail, paws, neck, and muzzle. The great team at Bideawee has been working to desensitize him to having the leash taken on and off, which seems to be an anxious event for him. They have also been teaching him basic obedience commands, and he has successfully learned "down."
With a little patience, gentle handling, and consistency, Bideawee is certain this sweet boy will be a terrific family companion! Does Brighton sound like the perfect pup for you? Contact Bideawee by calling 866-262-8133 or email them to schedule an appointment to meet him at [email protected].