Everyone loves a good "rags to riches" story, especially when it has to do with dogs like we do here at NewYorkCityDog.org. Well today, we have one of those stories for you. You yourself can even be the hero of the story! It all begins with our adoptable dog of the week, Ezra.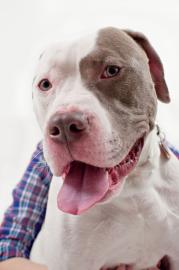 You see, Ezra was found abandoned on streets of Manhattan by a homeless couple. They brought sweet Ezra to Bideawee, where the fantastic staff has been looking after him. Ezra is a very sensitive and timid big boy. This nervous boy weighs 60 pounds and is a Pit Bull Terrier mix. At first, Ezra is very skeptical of new people and places, but once he feels comfortable with you he comes out of his shell as the very social pup that he is.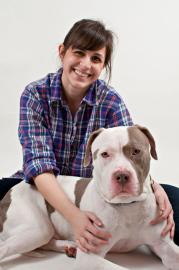 Bideawee anticipates Ezra to bond very strongly to his new family. He is approximately 2 year old that seems shy around other dogs and cats but seriously loves his human companions. Ezra is already housebroken and would make a great addition to any family with dog experience and knowledge of his breed. Due to his larger size, it is recommended Ezra go to a home with children over the age of 9.
We're sure once you meet Ezra that he'll melt your heart. To schedule an appointment to meet Ezra or for more information about him, contact the Manhattan Bideawee by calling 866-262-8133 or email them at [email protected].