Next week is Valentine's Day and we've got the perfect sweetheart for you! Meet your New York City adoptable dog of the week: Jixer.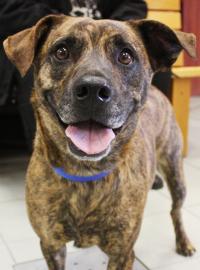 Jixer is a very handsome brindle Plott Hound mix. He was brought to the nice people at Bideawee via a municipal shelter. Bideawee tells us that Jixer is not too big and not too small. He is just 2 years old but is full-grown and weighs 42 pounds. Jixer is very loving and social, but he can be on the shy and submissive side in new situations.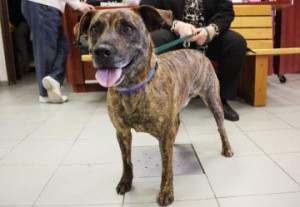 The ideal family for him would be one that would help him build his confidence through socialization and positive reinforcement. As we all know, this is an important aspect for any new pup. His new family would also need to continue his housebreaking and obedience training. Are you an active family with children over age 5? Then Jixer would be the perfect addition to your home. Jixer gets along with other dogs and seems to be friendly with cats, too.
If you're looking for an adorable adoptable to spend your V-Day with, contact Bideawee by calling 866-262-8133 to make an appointment to meet Jixer or email them at [email protected].