Another Friday means another adorable adoptable for your viewing pleasure NYC: Meet Ronya! Ronya is a very loving Miniature Pinscher mix.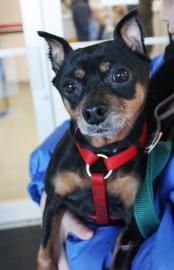 The caring vets are Bideawee are guessing she is around 8 years old, but she doesn't act like it! She is very much still a playful, spunky girl who hasn't showed any signs of slowing down soon! We're told she gets along with other dogs just fine, as well as cats, too. This social gal weighs just 12 pounds. She came to the Bideawee shelter from an municipal shelter where she came in as a stray. Who would give up that cute face?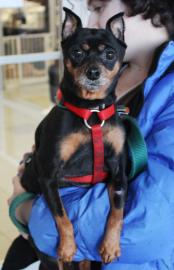 Ronya loves human attention of all kinds but she gets extremely upset if her paws or muzzle are restrained. So much so that she becomes pretty mouth. Due to this behavior and her small size, it is suggested that she goes to a home with kids over the age of 12. But don't let this deter you, as she is the biggest canine sweetheart. For more information on this sweet lady, contact Bideawee by calling at 866-262-8133 or email them at [email protected].