It's a new year with a new beginning! We hope you'll consider giving a dog in need a home for their new beginning in 2012. Check out our NYC adoptable dog of the week: Gizmo!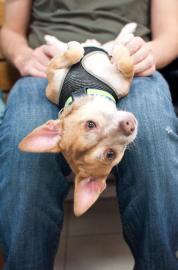 Gizmo is a fun loving Chihuahua mix. He is just over 3 years old and weighs a whopping 8 pounds. Are you an experience dog family? Then this little guy is the one for you! The ideal home for him would be one with teens and adults only. Gizmo has demonstrated shyness, insecurity and fearfulness towards new people. His new family would need to be patient until he feels safe and secure. But once this handsome boy warms up to you, he'll be a playful, lap dog for life! Though, he seems to trust women more easily than men.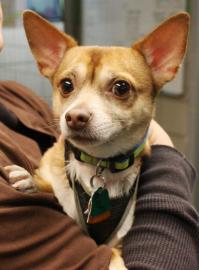 Gizmo gets along with other animals but can become over-stimulated and annoyed with some cats and dogs. Gizmo's new family will need to work on his housetraining, as he is partially housebroken. Mainly, this boy needs a home where he can feel confident again around a new home and new animals to social with. Check out his YouTube video Bideawee was nice enough to share. For more information on Gizmo, contact Bideawee at [email protected] or call 866-262-8133.