Next week is Turkey day, NYC, and on behalf of everyone here at NewYorkCityDog.org, I'd like to wish you all a very Happy Thanksgiving and safe travels! Now, here is your adorable adoptable dog of the week: Lucky.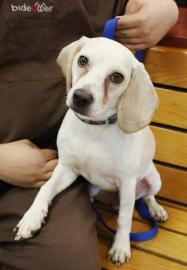 Cutie pie Lucky here is a 1 year old Beagle mix. This playful boy was found abandoned and tied to a pole in Queens before coming to Bideawee. Since Lucky is still a pup with lots of energy, the ideal home for him would be one with an active family that can help exercise him not just physically but mentally as well. Bideawee believes Lucky would do well with obedience training and puzzles to help exute some of that energy.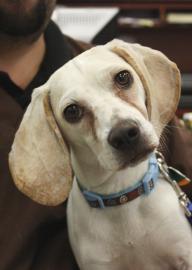 Since Lucky is a hound dog, he very interested in smelling his environment, which can be used as a motivational tool of reward in training him. This cuddly lad can live with children as long as they are always supervised to prevent accidental scares or injuries. We're told Lucky seems to be friendly with both dogs and cats. Lucky is mostly full-grown at 17 pounds, but he could very well grow a tad bit more. Call Bideawee today at 866-262-8133 to make an appointment to meet Lucky dog!