Can you believe we're just two weeks away from Thanksgiving? Crazy but true! Now check out your adoptable dogs of the week, New York City: Belle and Hester.
These two furballs of fun are sister Pugs that would like to be adopted together! These adorable, sweet 8 year old ladies are already housebroken. Both weigh about 19 pounds each – perfect for each arm to hold!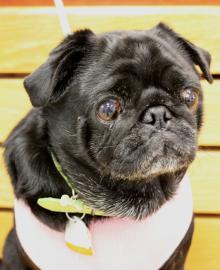 Belle and Hester are social, friendly, and seem to get along well with other dogs. Bideawee tells us that they may even be a little intimidated by cats. How cute is that? The ideal home for these two would be one with a calm, gentle family without young children.
Call Bideawee at 866-262-8133 or email them at [email protected] to schedule an appointment to meet these sweet girls today!