We hope you have a chance to enjoy your weekend, New York, but in the meantime please meet your adoptable dog of the week, Snoop.
Snoop here is a beautiful, spotted mahogany and white Pointer mix puppy. This 7 month old is very sweet and playful, and she loves to play with other dogs at the park. She seems to be friendly with cats as well. This energetic 25 pound pooch may fill out a bit more, but most likely she has done most of her growing.
Snoop's ideal home would be one with an active family that will allow her to satisfy her hounding instincts with lots of chances to smell and explore her environment. Her adoptive family will need to continue her obedience training, although she seems to be housebroken for the most part. Snoop can live with children, as long as they are supervised at all times to prevent accidental scares or injuries.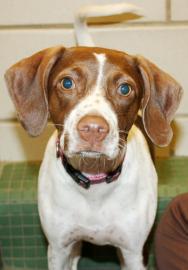 Just look at that face! Call Bideawee at (866) 262-8133 or email them at [email protected] to schedule an appointment to meet this gorgeous darling today. You just might find your best friend for life!