TGIF New York City! We'd like you to meet our adoptable dog of the week, Cherry.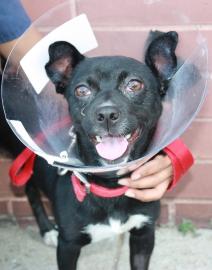 Cherry here is a short coat Chihuahua mix. She was found on the streets of Manhattan and was a very scared pup when she arrived at the Bideawee shelter. The great folks there say it didn't take long for this one year old to warm up to the staff and win everyone's hearts. Cherry is a warm, cuddly girl at night and a playful, energetic gal by day. Did we mention she loves to snuggle on your lap? She's just a year old and is already housetrained.
Cherry seems to get along with other dogs and may be friendly with cats as well. Because she has demonstrated a slight guarding stance with wet food and pigs' ears, her ideal home would be one with an experienced family with kids over age 12. This sweet baby came to Bideawee with prolapse in both eyes, known as "cherry eye." This was repaired by a surgeon and at this time, she does not require any medication or special care, though it is possible for the eyelid to prolapse again following surgery.
Do you have room in your heart and home for Cherry? Take a look at her video that Bideawee was nice enough to shoot on her behalf. We hope you make an appointment to meet miss Cherry. Contact Bideawee today at 866-262-8133. Enjoy the weekend everybody!