By Lauren Tharpe
In the wild, dogs eat meat.  You'll notice that I didn't say they eat gluten.  They don't.  So what is gluten and why is it included in your dog's food?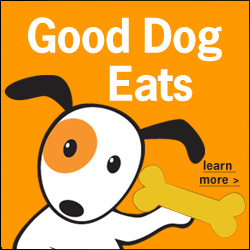 Gluten is a protein that comes from wheat.  Since it's a form of protein, dog food companies are able to use it as "filler" for your dog's food and still claim that it's a "protein rich" diet.  Since gluten technically counts as a protein, dog food corporations are able to up the grams of protein on their food's nutritional label—without the high costs of actually using meat (which, as we established, is what dogs would prefer to be eating).
Now, you're probably thinking "Meat is protein, gluten is protein; so what's the big deal…?  What's the problem?"
The Problem with Gluten
Since gluten isn't something that would normally be running through a dog's digestive system, they're prone toward being sensitive to it.  And the more they ingest it, the more sensitive they become.  It's a vicious cycle.  Your dog could start out "fine" with gluten in his younger years and be dying from it by the time he's an old timer.
Not only that, but gluten can make your dog gassy, itchy, and have a dull-looking coat.
If your dog develops a gluten allergy, he can easily become allergic to these ingredients as well: barley, wheat, rye, soy, oats, cornstarch, semolina, malt vinegar, brown rice, and wheat grass.  (Might I suggest just forgoing grains altogether?)
Gluten Free Dog Food
One of the best things you can do is to read the ingredients on the dog food label.  And, visit a reputable natural dog food store, that focuses on holistic options.  Generally there will be someone on staff who can talk with you about your dog's specific needs.
Check our list of stores by borough in New York City to find a location convenient to you.  By the way, most of these stores are dog-friendly so, your pup can come shopping with you!
Want to know more about healthy eating for dogs?  Click here for an in-depth story about holistic dog food.