It sure has been a scorcher outside lately, Big Apple. This is your perfect opportunity to come enjoy the air conditioning at Bideawee and meet Burnum boy! Barnum is an adorable Boxer/Pit bull Terrier mix.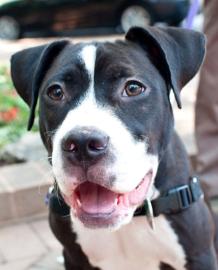 This handsome, energetic gent would be a great addition to an active family. At just 4 months old, this puppy now weighs about 25 pounds, but the kind folks at Bideawee expect him to grow into a medium-to-large sized adult. This fun-loving boy came from a municipal shelter.
 His future adoptive family should be delighted to know that he knows the sit command but they will need to help continue with his obedience training and housebreaking. We're told Burnum has a low level resource guarding with pigs' ears, so he should go to an experienced home with kids over age 9. Since he is still a young lad, it is recommended that his new family follow the dog trainer's behavior plan given to reduce his guarding behavior. This good looking boy is very friendly and gets along with other dogs and cats, but should be watched and monitored around them when in possession of high-quality treats. Feel free to call 212-532-4455 to get more information on adoption or to schedule an appointmen to meet this charmer.