"Life would be so wonderful if we just knew what to do with it" said 1930's actress Miss Greta Garbo. Her namesake pictured here is an adoptable Chocolate Labrador Retriever at the Humane Society of New York.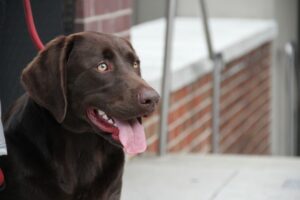 When Garbo's family brought her home she was probably all of 12 pounds of puppy love.  Now at almost two, she's a healthy, affectionate adult and they could not care for her.  Garbo is up-to-date on all of her vaccinations and is spayed.   Her perfect scenario would be an active family with an interest in integrating her into their home.  She needs some training, but this is a very good dog.  If you are looking for a running partner or hiking pal – Garbo would be your girl.
She's sweet and very affectionate.  More details about Garbo can be found here on the PetFinder site.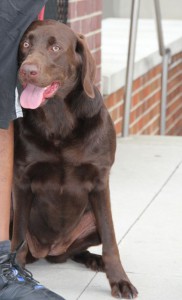 The Humane Society of New York is located at 306 East 59th Street, NYC.  Call 212-752-4842  Check back with us next week for more on our tour of the Humane Society.
Interested in learning more about Labrador Retreivers? Click here for the Breed Profile.