Sometimes even a quick trip out of the city will do the trick to relieve summer in the city blues.  Dobbs Ferry, a charming  town on the Hudson River is about 40 minute train ride from Grand Central.

You can take the Metro North – Hudson line, off-peak and your pup can travel with you.  The Metro North asks that your leashed dog be well-behaved and not disturb other passengers.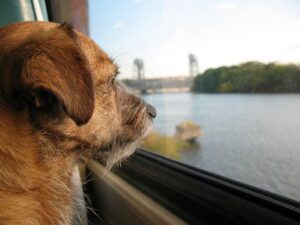 When you arrive cross over the tracks toward the river and walk down to the park adjacent to the Hudson.  Bring a picnic, fishing rod or just a a good book.   On a good day, you'll see the Manhattan skyline to the south and the Tappan Zee Bridge to the North.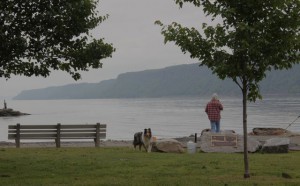 Katie, this gorgeous Collie fished with her Dad and looked for a goose to chase.     There is also a playground for children at the north end of the park.
Thanks Katie for guiding us today!