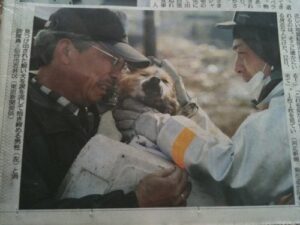 There is at least one man who was reunited with his dog. For this we are grateful, for all others, we pray.
We found this message from Elizabeth Oliver of Animal Refuge Kansai:
From our experience of the Great Hanshin earthquake on January 17th 1995, we know that the number of homeless pets may be immense. Here at ARK, we are preparing for what might be a huge influx of animals. We already have some facilities in place and a team of experienced staff able to deal with traumatized animals. We may have to build emergency shelters as well. The logistics of getting animal from the Tohoku/Sendai area is immense, since roads and other transport links have been cut and may take time to restore. Our only means to get animals down to Osaka may be by helicopter, which was one method we used after the Kobe earthquake. We will use our resources and know-how to help as many animals as we can, following this terrible disaster.