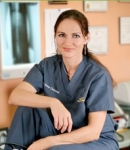 Pet Neurology is the study of the nervous system and the brain in animals.  A relatively young field,  there are less than 300 veterinarians across the globe that are focused in this highly specialized area.  Pet Neurologist,  Dr. Anne Chauvet, Founder of Critical Care and Veterinary Specialists of Sarasota shares her insight to this intriguing field, how she came to choose it, and what it can mean for your dog.
Hear the amazing story of Serendipity and her miraculous recovery as relayed to our Rover Reporter.
Dr. Chauvet's colleagues across the globe are a tightly knit group and share updates and information on a regular basis as well as through their annual meeting.
Critical Care and Veterinary Specialists of Sarasota is now open 24 hours a day, 365 days per year providing an exceptional level care to pets in our area.  Located across from The Landings at 4937 South Tamiami Trail. 941-929-1818