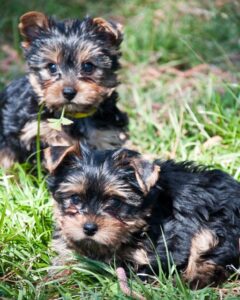 Yorkshire Terriers are a toy breed originally developed in England in the late 1800's to help keep castles and mines safe and clean.  Now, an internationally popular breed, Yorkies are loyal and clever companion dogs. If you are looking for a Yorkie for your family, it's critical to find a reputable breeder.  We asked Suzanne Quick, of Yorkies by SZQ about her thoughts about this special breed.  "Always, always look for a breeder who can provide references for you or will permit you to visit where the puppies live".  Suzanne recommends that Yorkies are best suited to families with children over the age of 8.  With the proper introduction and supervision Yorkies can live in harmony with other dogs and cats.
As a home based breeder, Suzanne works with her puppies from birth, to socialize them with other dogs and people.  "It's important that if you are bringing your puppy into a home with other dogs, that you do spend some time alone with the new puppy.  If not, your puppy may bond closely with your other dog – making him the pack leader."
Suzanne has 3 Yorkie puppies available right now, two females and one male.    With more than 20 years in the world of Yorkies, Suzanne can assure new owners that her puppies will be healthy and affectionate.  If you have a question about Yorkies or are looking for a Yorkshire Terrier puppy call Suzanne, 941-758-0958, she'll be happy to help!