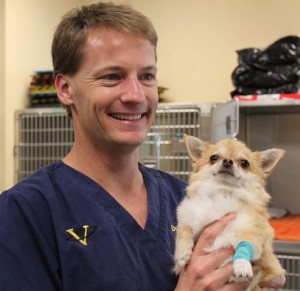 Nothing puts a damper on a holiday celebration like a visit to the emergency room – truth we should all heed – but a special caution goes out to pet owners around this time of year.
A visit to your local pet ER can quickly turn Yuletide cheers into tears over a sick pet, not to mention the added expense to the mounting holiday bills!  So what can you do to avoid spending your quality holiday time and money at the veterinarian?
Our Rover Reporter talked with Dr. Mitch Potter at Critical Care and Veterinary Specialists of Sarasota about key things to watch for and avoid this season.
Candies, chocolate, and foil wrappers
Alcoholic beverages
Electrical cords and light strands
Ribbon, string, and yarn
Metal ornament hooks
Tree tinsel and metallic icicles
Outdoor fireworks and other loud noises
Rich, fatty foods and table scraps
Rubber bands
Beads and buttons
Poinsettias, holly, mistletoe, and greens
Rock salt and antifreeze
Poultry bones and meat drippings
Unfortunately accidents do happen, even to the most attentive pet owner, and when they do the best advice is to seek veterinary care.  The sooner your pet is assessed and treated by a veterinarian, the less likely he or she will need a holiday miracle to recover!