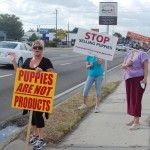 Heads-up Dog Lovers!
Animal Advocates are organizing a demonstration against both Petland and PuppyTown in Sarasota the weekend before Christmas – the busiest time of the year for these stores selling puppies as Christmas gifts.
The plan is to have one or two people in front of each location the entire day Saturday, 12/18 and Sunday, 12/19 so that our constant presence will have the greatest effect on these big sales days.
Organizers are asking you to commit to ONLY one hour or two hours at the location of your preference. Please email Diane at [email protected] so that she can schedule you for the time and place you choose.  Hours are listed below.  Signs will be provided.
This demonstration could make a big difference for the dogs who suffer in puppy mills and we need YOU to help. Remember, its for the babies mama!
Please email Diane back to let us know whether you can or cannot participate in the demonstration. We need to know how many of you we can count on.
PLEASE pass this along to anyone else you think might help – not just your animal rights friends but anyone you think might be willing to help close these businesses that perpetuate suffering and misery for the puppies they sell and their mothers and fathers who are trapped in the puppy mills. BRING A FRIEND TO KEEP YOU COMPANY!
For the Truth about puppy mills, please watch:
http://www.youtube.com/watch?v=2HM8UmHM8Uo
PROTEST CONTACT:
Diane Diamond Thompson
Karen Ankerstar
Madeline Young
bobandmamail.com
PROTEST LOCATIONS:
Puppytown
4045 Tamiami Trail
Sarasota, FL
Saturday 11 am to 8 pm
Sunday 12 noon to 7 pm
Petland
5380 Fruitville Road
Sarasota, FL
Saturday: 10 am – 9 pm
<span>Sunday: 11 am to 7 pm </span>
· · Share