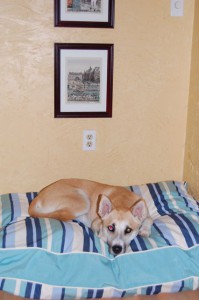 When the big puppy got to be about 18 months, we made a big mistake.  We put his crate away.  One of the reasons was – – that the crate itself was so massive –   we had  over estimated what his full size would be when he was just 12 weeks  and ended up with the biggest crate in the store.  The black wire box really just wasn't cutting it in the middle of 1976 living room.   Once it was safely stored in the garage,  it was a big relief.  But we had taken away something really important.  A place for Kodi.
So when we had a chance to figure it all out, we realized that the next step was a dog bed. We tried some of the Walmart options but they ended up either to dirty to clean, or a cloud  of puff 'n' stuff.  Finally, we found a whole selection of dog beds at CryptonFabric.com. Sizes, colors and designs to accomodate even big dogs, and in wide array of colors to blend in with lots of decorating styles.  It wasn't easy but we chose a bed and waited for UPS.
It's pretty obvious that Kodiak is very happy – but it has made our lives a little more sane too.  We've been practicing – "go to your place" and have a treat ready for him when he heads over to his bed.  Huskie-Shepard is a high-octane mix, so we need every tool we can find to make the day go smoothly.
What's great about this bed is the heavy duty construction.  Crypton has designed the fabric so that its virtually indestructible.  The fibers are woven so tightly I think it would be nearly impossible to chew and the heavy duty baffled zipper looks like its built to last.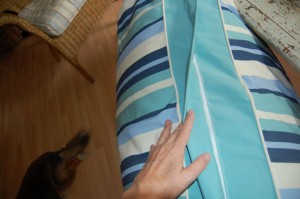 The cover is washable so in time we'll be able to slip it off and throw it in the  washer.
By the way – Kodi isn't the only one in the house to like the bed. .
in the afternoon, while Kodi and I are in the office,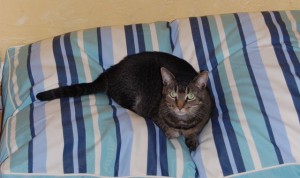 Angus is making the dog bed, his place too.